Story National projects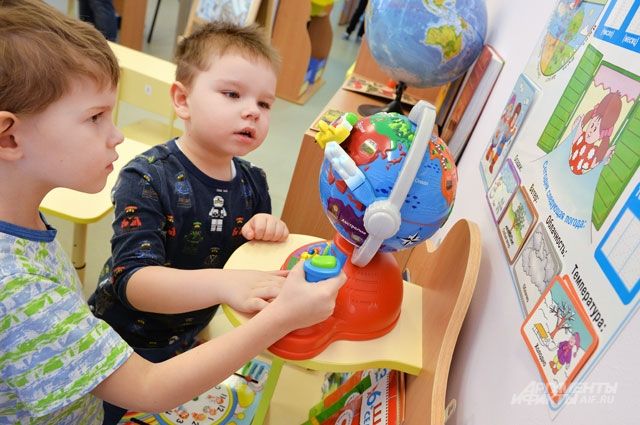 Queues in kindergartens are gradually being eliminated. Since the beginning of the implementation of the national project "Demography" 180,000 new nursery places have been created.
In the Arkhangelsk region, the combined type kindergarten No. 7 "Semitsvetik", put into operation in January, is ready to receive the first pupils. There are 12 groups for 280 places in a preschool institution. In the premises of each group — a playroom, a bedroom, a pantry, a bathroom and a dressing room equipped with a separate wardrobe for drying children's clothes. In group rooms — modern furniture, educational toys and aids, groups for toddlers are equipped with changing tables and sinks in the locker room, potty chairs, feeding chairs, playpens, beds with sides. Also in the kindergarten there are music and sports halls equipped with modern equipment, rooms for specialists, rooms for organizing additional education for children, walking areas with bright verandas and sports complexes for the physical development of pupils. 24 educators and six specialists were selected to work in the new preschool institution: a physical education instructor, a music director, a psychologist, a speech therapist, a social pedagogue and a teacher of additional education. Head of the kindergarten "Semitsvetik" Svetlana Strazdauskenesays: "There is one free room in the kindergarten, and we would like to open a sensory room in it. This is very important for the youngest pupils, as well as for children with speech disorders. We have escort specialists who are ready to work with such children. The opening of a new kindergarten will reduce the waiting list for preschool educational organizations in Arkhangelsk and ensure 100% accessibility of preschool education for children aged one to seven years in Mayskaya Gorka district.
In the Republic of Tyva, on the eve of the New Year, in the city of Shagonar Ulug -Khemsky kozhuun opened a kindergarten "Bodagan (Camel)". Ulug-Khemsky kozhuun — one of the largest regions in the republic, which has a high birth rate. Elizaveta Alexandrovna, Head of Kindergarten: "For us, the opening of such a modern institution is a big step in the development of the social infrastructure of the kozhuun. Many mothers will now be able to go to work, entrusting their kids to us. The kindergarten has a modern catering unit, a medical office, speech therapist and psychologist's offices, as well as spacious rooms for various events. came out at 84% load. There are seven groups in the kindergarten, including three groups for children aged 1.5 to 3 years old for 60 places, four groups for children aged 3 to 7 years old for 65 places. Now the kindergarten is attended by 105 children. "We are glad that a new kindergarten has opened in our microdistrict, we go to it with pleasure," — noted the mother of Denis, one of the pupils of the kindergarten. In total, according to the national project in the Maiminsky district of the republic, it is planned to build four kindergartens for 125 places each, which will close the queue for preschool educational institutions in Mayma.