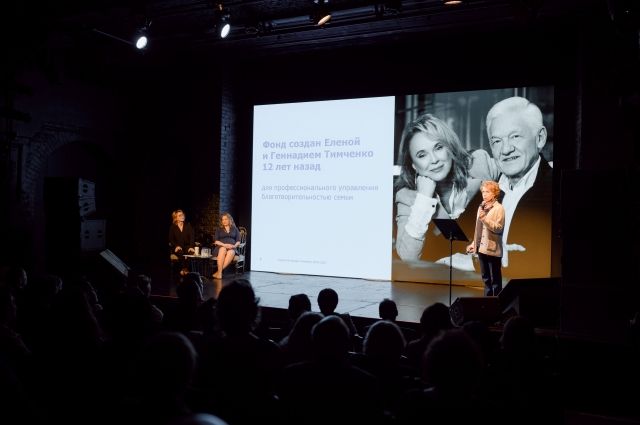 More than half of Russia's population lives outside the big cities. There are no huge budgets, and often there are no enterprises either. But there are initiative people — they unite in communities and themselves transform life around. The Timchenko Foundation presented its new strategy.
Uncle Petya Courchevel and others like him
People of action — Who are they? Are only businessmen or top managers who "privatized" in recent years, this phraseological unit? There are, after all, completely different people — they are out of business, but they are engaged in no less important matters. Each, for his part, makes life in his town or village better, more interesting, richer.
Lives in the Udmurt village of Debesy Sergey Vasiliev, works as a dispatcher for a local power plant, and plays chess in his spare time. No, not only for his own pleasure, but also trains the local children, teaches fellow villagers to teach chess, so that they also study with children. Through his (and now his associates) efforts, the whole of Udmurtia began to play chess with pleasure, and Debesy turned into its chess capital.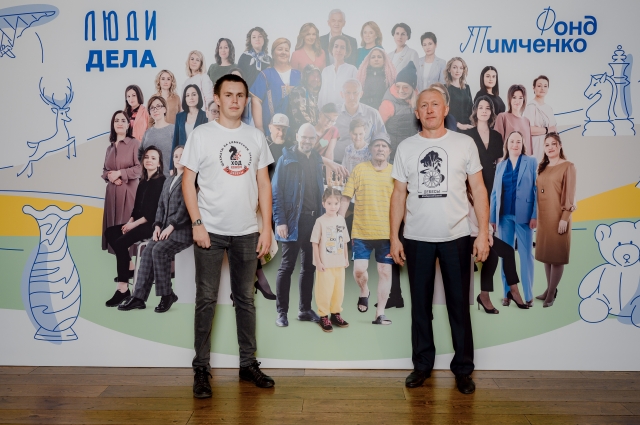 Sergei Vasiliev, who made Debesy the chess capital of Udmurtia, with his pupil. Photo: Timchenko Foundation
Pyotr Grigoriev, 78-year-old pensioner from Sorochinsk, Orenburg region — former engineer. Therefore, to this day, he is making something. Countrymen began to call him "Uncle Petya Courchevel" after he and his friends created a ski base there with their own hands. A lift was built on a slope suitable for descent. Both children and pensioners ride — free and healthy. True, Uncle Petya first checks their school grades for children — and allows only good and excellent students.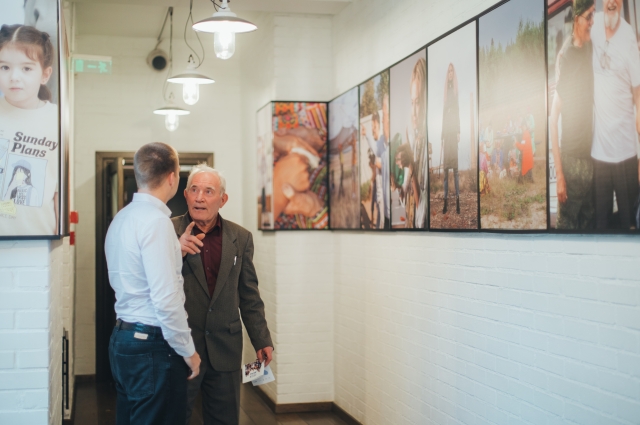 Uncle Petya Courchevel (Pyotr Grigoriev) at a photo exhibition timed to coincide with the presentation of the Timchenko Foundation's new strategy and the premiere of the film "People of Action". Photo: Timchenko Foundation
Marina Kabakovafrom the village of Kyzym, Beloyarsky District, Khanty-Mansiysk Autonomous Okrug — Yugra — museum worker. At some point, she decided that the traditional culture of the Khanty could bring the village out of depression. With small steps, involving local residents and like-minded people, she was able to create an ethnopark where folk rituals and crafts are revived, where national holidays are held with the participation of even the smallest Kyzyms, where tourists come, providing additional income for the park.
< strong>Yulia Buldakova— from Tulun, Irkutsk region, the same one that the whole country learned about a few years ago when a terrible flood occurred there. She and her associates participated in the restoration of the city and breathed new life into it — revive the glass industry. In Soviet times, there was a large glass factory here, which provided the inhabitants with work, and the whole country — glass goods. In the 1990s, it went bankrupt and gradually collapsed. Julia found masters who did not forget the secrets of glass making. On the ruins of the factory, he collects glass "ingots", which are used to make a variety of products — brooches, pendants, artistic dishes. Glass has become a "brand" again cities, a museum and a workshop have appeared, where they create new masterpieces and show guests how they are made.
Father of many children Yuri Zmeikovfrom Ryazan, he brings up both his own and adopted children. Knowing how difficult it is, he organized the Association of Foster Parents. And recently he became the director of the new Center for Family and Childhood in the village of Polyany, Ryazan Region, where children and their parents can receive support, as well as attend various circles and sections.
The Elena and Gennady Charitable Foundation supports such extraordinary people in business Timchenko. All of them at different times received grants from the foundation, and now they have become the heroes of the film almanac "People of Action". Directed by Vladimir Golovnevwith great love for the characters, subtle humor and high professionalism, he created and combined 5 short stories into one documentary.
Director of the film almanac "People of Action" Vladimir Golovnev. Photo: Timchenko Foundation
Together with the heroes of the film, other "people of action" who came to Moscow from different regions of the country watched it in one breath. It is a pity that there are no such heroes of our time and their stories on our federal TV channels. After all, they deserve to be known about, and their results would inspire others and encourage them to start doing business too.
In the meantime, the film is posted on RuTube.
Active communities of small territories
The people gathered in the hall, — these are mainly long-term partners of the fund, its friends and beneficiaries. It was to them that Chairman of the Supervisory Board Ksenia Frankand CEO of the fund Maria Morozova presented the new strategy on September 15.
Over the 12 years of operation, the Timchenko Foundation has supported 4,461 projects with a total budget of RUB 6.9 billion. They were carried out in 80 regions of the country and were carried out as part of the strategic programs: "Older Generation", "Sport", "Family and Children", "Culture".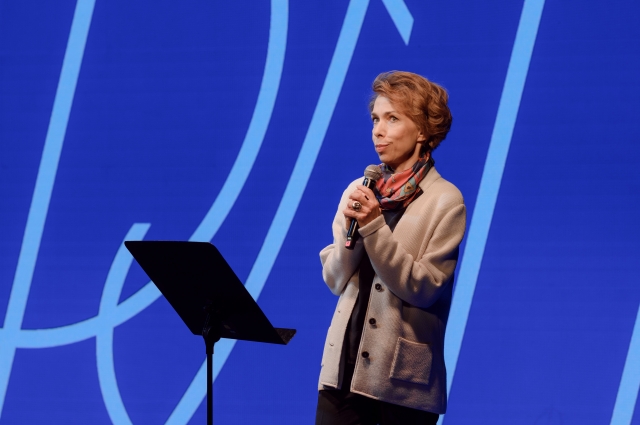 General Director of the Timchenko Foundation Maria Morozova presented the results of 12 years of work. Photo: Timchenko Foundation
In the course of the work, it became obvious that attention should be paid to small areas, where even small projects give impetus to development. It became clear that it is important to support local communities, because it is together that people achieve impressive results. It became clear that local activists are a good support in the regions.
There have also been external changes — for example, a number of topics that the foundation started were taken over by the state and the non-profit sector. And the new challenges facing the country also require a review of actions. For these reasons, the fund decided that it was time to reconsider the strategy.
"We believe in a society in which every person has the opportunity to live with dignity in an atmosphere of cooperation and mutual support. We go where there are the least resources, we solve complex social problems. We create conditions for the development and support of those who treat people around them responsibly, acutely feel their problems and spare no effort to improve their lives, — this is the updated mission of the foundation, which was voiced by Maria Morozova.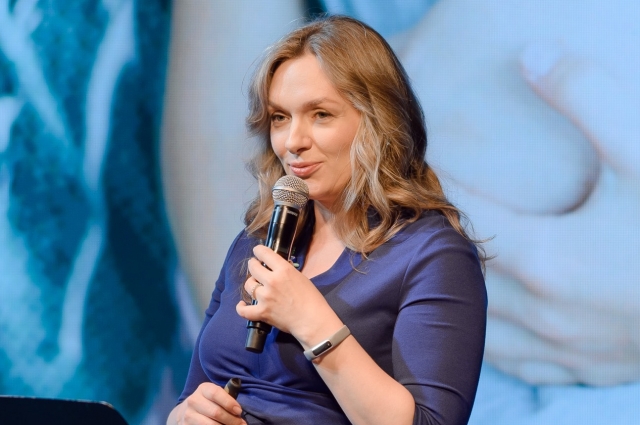 Ksenia Frank, Chairman of the Supervisory Board of the Timchenko Foundation, spoke about the new strategy. Photo: Timchenko Foundation
Now the fund will focus on work in small areas (up to 200 thousand inhabitants). There, families' incomes are 30% less than in the city, the lack of infrastructure is growing, and people are leaving. But those who remain, not wanting to join the flow of the metropolis, — much closer to each other, and this helps to form active and ready-to-do communities.
Further work of the foundation will be carried out in two directions: "Care in the immediate environment"; and Child and Adolescent Development. Focus — on vulnerable older people and families, children and adolescents.
Local communities, on whose potential the Timchenko Foundation stakes, can do a lot, including helping those who are close to them and need help. And they know it better than social services — because everyone is on the lookout. The pandemic has clearly demonstrated what a powerful potential lies in them.
This means that communities are able to help families in crisis cope with the problem so that their children stay at home, and not placed in social institutions. Now in the country, 20% of families (3.5 million) need help, but, unfortunately, they do not always receive it in a timely manner, according to the fund, so the problems are aggravated, and children can even be taken away by guardianship authorities: 28 thousand children today are temporarily placed in social institutions.
Such communities can also help the elderly. After all, 53% of people over 65 in our country are lonely, some have poor eyesight and cannot buy food, some do not go out in winter, afraid to fall, and the majority do not have enough strength to do the cleaning or chop wood. But only 3.6% of older people in need receive support from social services.
It's all — about the first direction of further work. And within the framework of the second direction — "Development of children and adolescents" — the fund will help the younger generation to fully develop in local communities. After all, more than half of all schoolchildren in the country study in small areas where there are not enough "significant adults", high-quality additional education and leisure. By supporting projects in education and sports, training mentors, and involving local communities in working with children and adolescents, the foundation will help change this situation.
Ksenia Frank and Maria Morozova believe that the local communities that receive support will become more active , more noticeable, more successful — After all, the fund already has real results. During his work, he supported 900 organizations across the country. And its "graduates", some of whom gathered for the presentation of the new strategy and the film almanac "People of Action", will become mentors for other NGOs, TOSs, and initiative groups, passing on their experience to them. And the foundation's new slogan "Time to act together" reflects the belief of his team in the power of unification and solidarity.
Rate the material