The President of Kazakhstan supported the initiative to rename the capital from Nur-Sultan to Astana. In 2019, he initiated the renaming of Astana to Nur-Sultan. What other names did the city have – in RBC infographics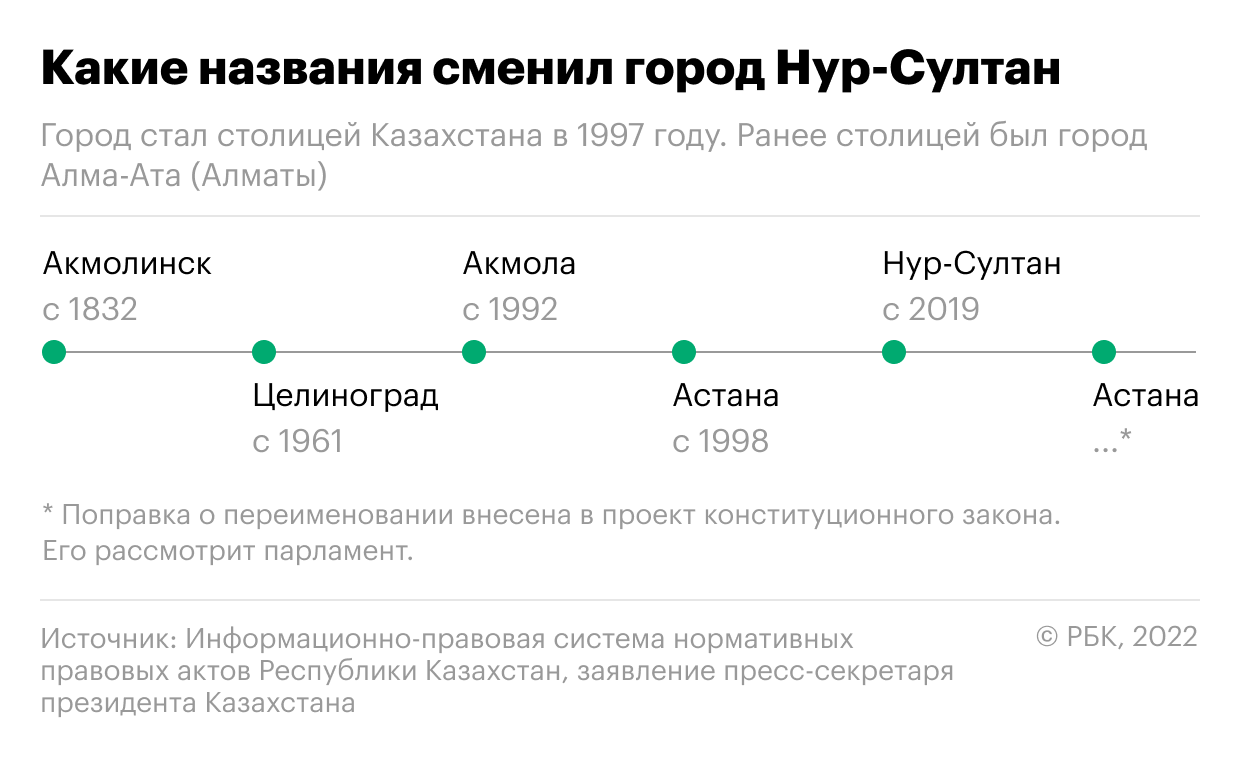 Since 1832, the city was called Akmolinsk as part of the Russian Empire. During the Soviet period, the Presidium of the Supreme Soviet of the Kazakh SSR decided to rename it Tselinograd. The name was associated with the policy of developing virgin lands.
In April 1991, the deputy chairman of the Tselinograd Regional Council of People's Deputies, Beibit Zhusupov, stated that the regional Council of Deputies received letters from residents with requests to return the name Akmola to the city. In July 1992, the Presidium of the Supreme Council of the Republic of Kazakhstan restored the historical names of the city and the corresponding region. Tselinograd became Akmola (from the Kazakh "Ak Mola" is translated as "White Grave"), and the Tselinograd region— Akmola.
In 1997, by decree of President Nursultan Nazarbayev, Akmola was declared the capital of the country. The official presentation of the city as the capital was held on June 10, 1998. In the same 1998, Akmola was renamed Astana (from the Kazakh language, the toponym is translated as "capital"). The city existed under this name until March 2019.
On March 19, 2019, Nursultan Nazarbayev announced his resignation. He was replaced as president by Kassym-Jomart Tokayev, who proposed renaming the capital to Nur-Sultan, in honor of the country's first president. The decision to change the name of the capital was made unanimously at a joint meeting of both houses of parliament.
Authors Tags