For two days in the unrecognized republic, the building of the Ministry of State Security, the military unit and the village where the repeater is located were attacked. The authorities of Transnistria announced the involvement of "Ukrainian combat groups" in the incidents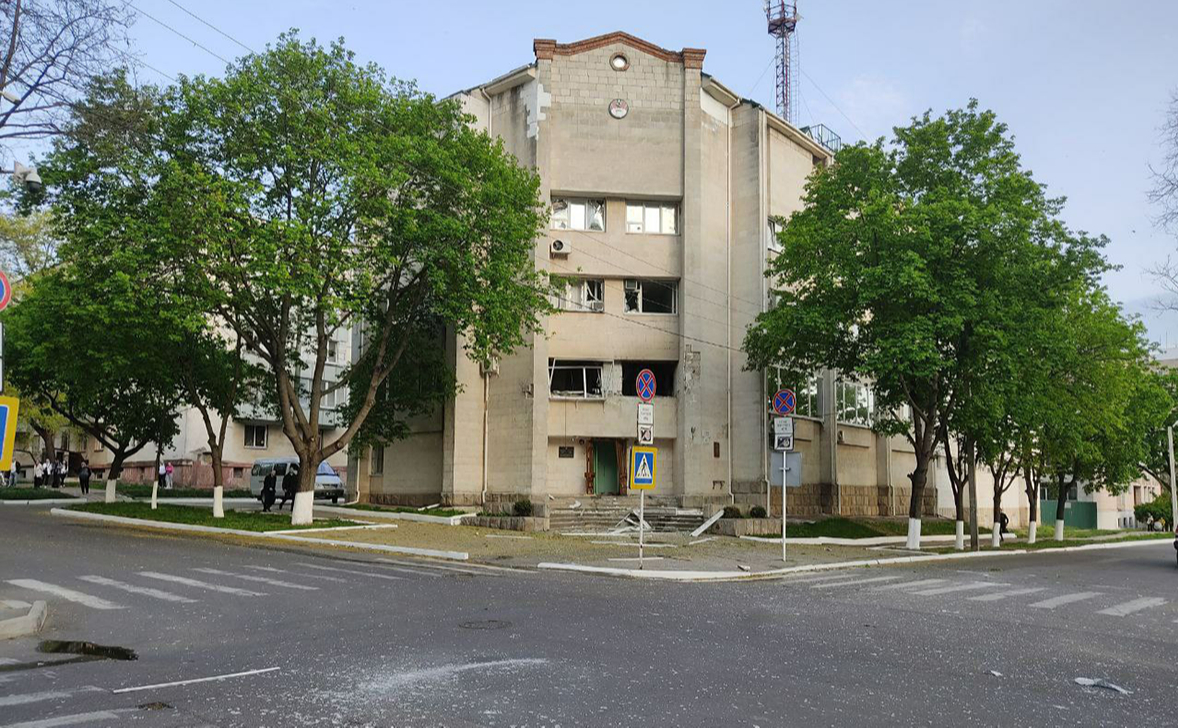 Consequences of the shelling of the MGB building in Tiraspol
In connection with the introduction in the unrecognized Pridnestrovian Moldavian Republic (PMR) of the "red" level of the terrorist threat, all objects of national importance have been taken under protection, according to a message on the website of the Ministry of Internal Affairs. In recent days, several incidents have happened in Pridnestrovie: the shelling of the building of the Ministry of State Security, explosions in the village of Mayak and an attack on a military unit.
The regime was introduced by decree of the President of Pridnestrovie Vadim Krasnoselsky on April 26 for 15 days, the Minister of Internal Affairs of the PMR said Vitaly Nyagu. In this regard, checkpoints have been set up at the entrances to cities and at the borders of districts. A selective inspection of vehicles is being carried out to identify weapons and ammunition, and all cars are checked at night, the head of the Transnistrian Ministry of Internal Affairs said.
"If the need arises, we will equip the posts. Work is already underway where additional lighting is needed at night. There were no incidents at checkpoints,»— said Nyagu.
The Ministry of Internal Affairs of Transnistria transferred policemen to an enhanced mode of service, patrols are on duty in the streets, squares, train stations, parks and other public places, he said.
This year, for security reasons, the Victory Parade and the procession of the "Immortal Regiment" were canceled in Pridnestrovie, only flower-laying ceremonies will be held at the monuments and graves of those who fought in the Great Patriotic War, the Ministry of Internal Affairs of the republic said.
On April 25, the building of the Ministry of State Security of Transnistria in Tiraspol was fired from a grenade launcher, no one was injured, windows were broken in the building. On April 26, two explosions occurred in the village of Mayak, two antennas were disabled, which relayed Russian radio. On the same day, the Transnistrian authorities reported an attack on a military unit in the village of Parkany. The PMR Security Council called these events terrorist attacks.
The President of Pridnestrovie announced the involvement of "Ukrainian combat groups" in the incident, which, by their actions, want to drag the republic into the conflict.
Read on RBC Pro Pro "Zombie enterprises must be closed": how the industry reacts to sanctions Studies Pro "Worse than a pandemic": what threatens Germany to refuse oil and gas from Russia 6 career-critical skills you'll learn while looking for a job 2022 Cases Pro These seven habits should be taken under control by a leader Instructions Pro Moldova will ask for this. Chisinau, in response, stated that it excludes any military actions to return Pridnestrovie under its control.
Press Secretary of the President of Russia Dmitry Peskov called Kyiv's statement quite provocative, and the Russian Foreign Ministry said that Moscow did not want to drag the republic into what is happening around Ukraine.
Article content Authors Tags Subscribe to Telegram RBC Stay up to date with the latest news even in conditions of blocking